As iron sharpens iron, so one man sharpens another.
Ron Paddack & Brian & Joy Zane
Sundays | 10:15 am
Ongoing Group

Group Study:
The Chosen
This group is full of people who love to study God's word. We have fun doing different studies and sharing the teaching time between 3 leaders.

Right now we are doing "Where Do We Go From Here" by David Jeremiah.

Everyone is welcome! Come join!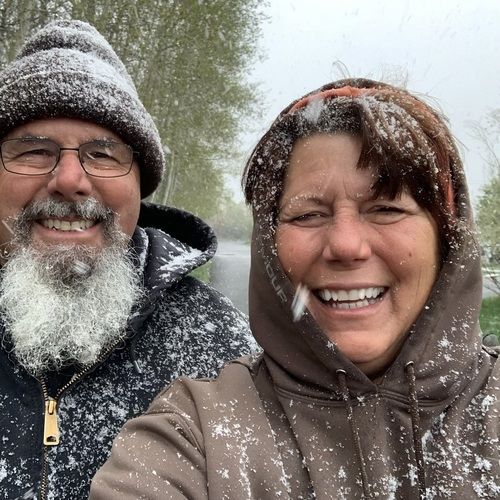 This group is a loving multi-generational group that enjoys deep study of God's word. We encourage talking over and scripture and applying it to our daily lives.

Sharing the blessing of life together and having great fun along the way is what this group is all about!

And... we have delicious snacks and coffee.

Come join us, you are always welcome!
In this Book of the Bible series, Chip Ingram unpacks the book of Titus. He challenges us to display the gospel in our lives through doing good. We do good works not to earn God's favor, but as a result of God's favor. When the gospel has truly taken root in our lives, it produces the fruit of godliness. As we pass these things on to future generations, the Church stands in bright contrast to the darkness of the world.

This group is mostly for young adults and couples.

Childcare may be provided if needed.
Ladies' Bible Study
Mondays | 6:30-8:00 pm
FBC Education Building

Group Study:
Becoming Heart Sisters
We accept new members at any time, but it is best to join when we start a new study.

We study subjects that are of interest to our ladies.

We are halfway thru a study on Becoming Heart Sisters, a Bible Study on Authentic Friendships.

Our next study will probably start in Jan of 2022.

We are a safe place to share your heart and we have supported activities for foster families in our community.
This is a women's Bible study to help you see that the Bible is not a bunch of separate, disjointed stories, but instead is One Complete Story. Understanding the Grand Narrative of scripture will help you understand how the whole Bible points to Jesus.

This is a great group for all ladies, whether you're looking at the Bible for the first time or you've spent your whole life studying it.

We'll be meeting in Newberry Springs. Please contact Diane using the icon links next to her photo.
Tuesdays | 6:00 pm
Devries' Home
October 26 - December 7

Group Study:
Romans
Our group is for married, singles, and widowers who desire to study God's Word and pray for each other.

Our desire is to know each other deeper as children of God through Bible study, prayer, and positive fellowship!

*This group is currently full.
Tuesdays | 6:00 - 8:00 pm
Dents' Home


Group Study:
Whisper on RightNow MEDIA
Join us as we dive into God's word and seek to apply it to our everyday lives. We want to be followers of Jesus that obey and live out our faith beyond Sunday and Wednesday at church.

We love learning and being challenged in a multi-generational, multi-ethnic, multi-fill-in-the-blank group. This group is for anyone but focused on young couples and families.

Childcare may be provided if needed.

This group will close after 3 weeks until the next study.
Wednesday | 10:00-12:00 pm
Devries' Home
Starting February 9




Open to all ladies.

Childcare provided.

We will begin a new study in 2022.
Tired of feeling like you are on a spiritual roller coaster?
Want your walk with Jesus to be powerful?

Come join Jim and Kaye Webster as we study the Book of Judges in a study from J.D. Greear starting October 28.

This Small Group is applicable no matter how long you have been a follower of Christ. This study is for you.
Ages range from young children to senior adults and we meet in the large classroom off the foyer in the Worship Center.

Most are beginners.

We accept new members at any time and the only cost is the text book, which can be purchased online.
Tuesday Evenings | 5:30-7:30 pm
In-Person Meeting
January 4 - March 29
Thursday Evenings | 7:00-8:30 pm
Zoom Meeting
December 2 - February 24
Group Study:
Griefshare
GriefShare is 13 weeks long and also has a workbook provided at no cost and free online access to video sessions.

The group is never closed (join anytime). Most people stay for 2-3 quarters.
(Or as long as they want/need to)

GriefShare is a grief support and recovery group for individuals that have lost a loved one. Currently we meet together online, but are wanting to have in-person sessions at the church in the future.
1st Thursday Each Month
10:00-12:30am
FBC Barstow Education Building
October 7, 2021 - May 5, 2022
'21-'22 Theme: All for Love
1 Corinthians 13:4-7
MOPS Website
MOPS is a non-denominational Christian organization that connects moms to other moms in our community who meet together to laugh, cry, pray and embrace the journey of motherhood.

A typical meeting will include prayer, game(s), teaching, group discussion, creative activity and fellowship time...Come join in on the fun!

We will be meeting once a month from October to May at FBC Barstow. Meetings will be on the first Thursday of the month from 10am-12:30pm.

Childcare will be provided.